Virtual Dinner and Interactive Cooking Demo with Chef Ludo Lefebvre
Culinary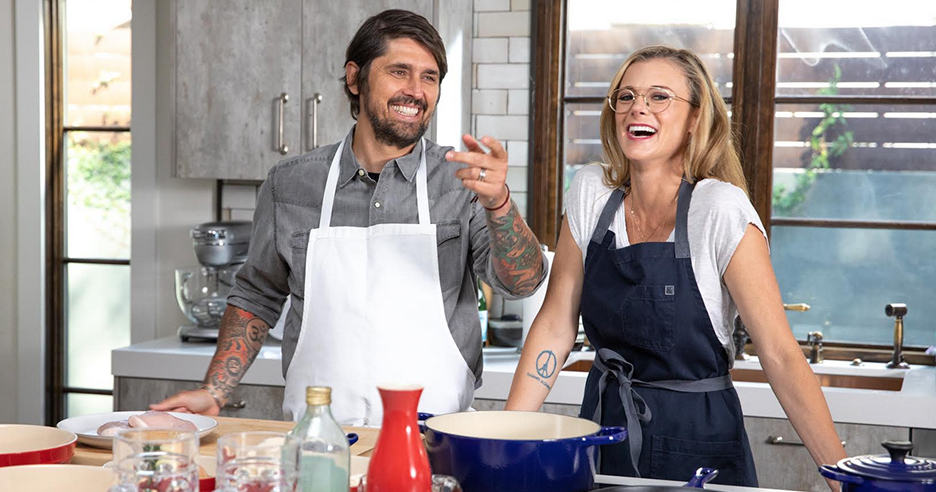 Take your cooking skills up a notch with an interactive lesson from a culinary pro! Join Michelin Starred Chef Ludo Lefebvre of Trois Mec and Petit Trois with his wife and business partner Krissy Lefebvre, for an exclusive virtual interactive cooking demonstration you can enjoy in your own kitchen. This one-hour experience will offer a rare opportunity to join Chef Ludo as he prepares one of his most popular meals from his award-winning restaurant, Petit Trois.
Cardmembers will be able to cook along with Chef from the special "Big Mec" meal kit provided for this experience. Chef Ludo will go through the step by step process of creating this specially curated three-course meal, sharing his best tips for preparing the perfect burger and frites. Through Zoom, Cardmembers will have the chance to ask questions to Chef Ludo and his wife, Krissy and learn first-hand the art of making the famous Fleur du Mal cocktail.
Chef Ludo recently celebrated 20 years of cooking in Los Angeles and is one of the city's most influential chefs, known for his inventive, refined cooking. Since opening, Trois Mec, his restaurant in Los Angeles, has continued to earn continuous praise and rave reviews. In 2019 the restaurant was awarded one Michelin star. Petit Trois, Ludo's "Bar a la carte" concept, was honored as a James Beard finalist for Best New Restaurant in 2015. At Petit Trois Le Valley in Sherman Oaks, a goods store is open for pick up and local delivery.
Menu includes:

Salad Course:
Bibb Lettuce Salad with Chef Ludo's vinaigrette
Main Course:
Petit Trois' Big Mec Kit including frites
Dessert Course:
Apple Tart (ready to go in oven)
Cocktail:
Fleur du Mal including Rose infused vodka, lemonade, fresh grapefruit
Equipment needed:

Stovetop
For the Burger:

Spatula
Small spoon
Butter knife, or similar size
Cast Iron skillet or higher rim sauté pan (ideally 9")
Bread knife
For the Fries:

Chef's knife (ideally 7-8")
4-6 Quart sauce pot (for frying)
Baking sheet (prepping and cooling potatoes, a wire rack helps, but isn't necessary)
Kitchen thermometer (helps with getting the oil temp right, but not necessary)
For the Salad/Dressing:

Kitchen spoon (to mix the salad together)
Whisk
2 Medium size kitchen bowls
Chef's knife
Please note: You will receive a detailed confirmation letter and additional event information via email. This virtual event will take place on Zoom. For best connectivity and viewing results, please download the software prior to the event. Please make sure you are joining from a desktop or a laptop device. If joining with a laptop, please ensure the power cord is connected. A headset is recommended. Logging on with a cellphone is not recommended for this event.
Specific log-in instructions for Zoom will be sent via email four (4) days prior to your event. Must be 21 or older to pick up the meal kit and participate in this event.
This event is available to the Los Angeles area only, with the option for pick-up or delivery. Some of your meal is pre-prepared, although some heating or cooking is required. By purchasing this event, you agree that we can share your contact information with the restaurant to ensure correct pick up/delivery options. The restaurant will not share your information with others
.
Package C is only available to Cardmembers who purchase package A or B.
Experience Includes
Interactive cooking demo with Chef Ludo and Krissy Lefebvre
Big Mec meal and cocktail kit (for 2 people)
Recipe card and full ingredients list
Live Q&A with cardmembers
Hedley and Bennett apron (for 2 people)
A homemade gift from the restaurant (2 per meal kit)
Tentative Event Schedule

| | |
| --- | --- |
| 5:45 PM - 6:00 PM | Guests log-on to Zoom |
| 6:00 PM - 6:05 PM | Welcome and introduction |
| 6:05 PM - 6:35 PM | Interactive cooking demonstration with Chef Ludo and Krissy Lefebvre |
| 6:35 PM - 7:00 PM | Live Q&A |
Please note: All times are Pacific. Schedule subject to change. The event begins promptly at 6:00 PM.
Event Pricing
Package A
$100
Capacity: 25
Complete Meal Kit for 2 people, with access for 1 screen/device. Pick Up at Petit Trois Le Valley
Package B
$140
Capacity: 5
Complete Meal Kit for 2 people with delivery (within 10 miles of Petit Trois Le Valley) plus access for 1 screen/device (includes $40 delivery fee)
Package C
$75
Capacity: 10
Add an additional Meal Kit for 2 people to Package A or B. Does not include additional screen access or apron
Event Location
Meal Kit Pickup Option available at:
Petit Trois Le Valley
13705 Ventura Blvd
Sherman Oaks, CA