Carla Hall & Michael Symon Virtual Experience
Culinary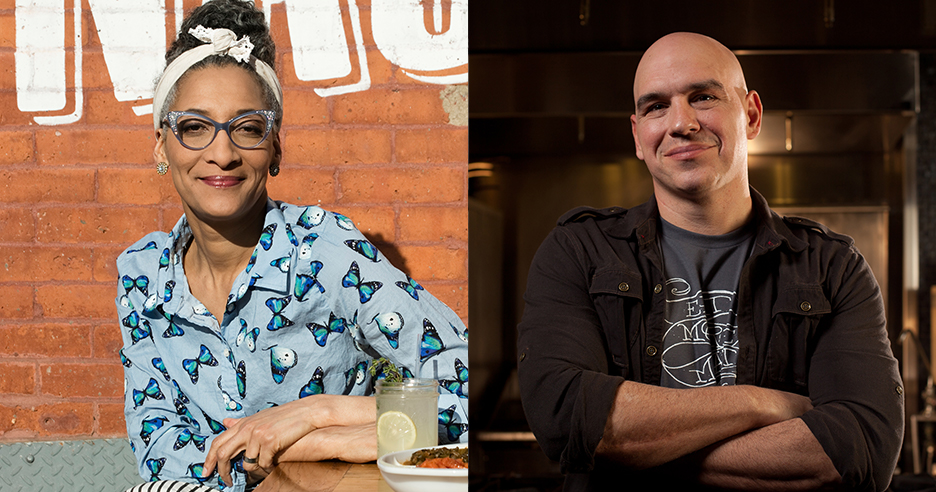 *Please use a desktop browser to purchase packages online. Users on a mobile device or tablet will be directed to our call center and may experience wait times.*

In 2011, both Michael and Carla became hosts of The Chew on ABC and then continued to captivate audiences for seven seasons of fun and excitement. Together again, Chefs Carla and Michael will demonstrate how to make an appetizer to make on your own for your next festive meal. The menu includes Carla's Shortcut Deviled Eggs with Bread and Butter Pickles, and Michael's Chorizo Stuffed Dates Wrapped in Bacon. The gift box will contain items to assist attendees with making the recipes post event, including a Silpat silicone baking mat, a jar of red pepper sauce, a deviled egg platter and a jar of bread and butter pickles.
The chefs will share their favorite tips for cooking at home and Cardmembers will have the opportunity to ask questions during a live Q&A.
Born in Nashville, TN, Carla grew up surrounded by soul food, though her career made a few stops along the way before she found her calling in the kitchen. Chef Carla Hall first won over audiences when she competed on Bravo's Top Chef and Top Chef: All Stars and shared her philosophy to always cook with love. She believes food connects us all, and she strives to communicate this through her work, her cooking, and in her daily interactions with others. Carla was recently a judge on Crazy Delicious on Netflix and on Food Network's BakeAway Camp. Her latest cookbook, Carla Hall's Soul Food: Everyday and Celebration, was published in 2018, landing on annual "Best Cookbook" lists across the country and receiving an NAACP Image Awards nomination.
Chef Michael Symon cooks with soul. Growing up in a Greek and Sicilian family, the Cleveland native creates boldly flavored dishes at his restaurants: Lola, Mabel's BBQ, Roast, Bar Symon and B Spot and Angeline. Chef Michael has shared his exuberant, approachable cooking style and infectious laugh with viewers on television since his debut on the Food Network in 1998. In 2008 he won The Next Iron Chef, earning him a permanent spot on the roster of esteemed Iron Chefs. In 2015 Michael traveled throughout the United States hosting Burgers, Brew and Ques, now in its 5th season, on Cooking Channel tasting the best of America's classics. Most recently, Michael's been cooking clever and approachable meals in his backyard for Food Network's Symon's Dinners Cooking Out, which has quickly become a hit. Michael has written five cookbooks and his latest, Fix It with Food, came out of his own experiences in addressing auto-immune diseases and inflammation.
Please note: This event is available nationwide with the gift box shipped to Cardmember's provided delivery address. By purchasing this event, you agree that we can share your contact information with the vendor to ensure delivery of your gift box. The vendor has agreed not to share your information with others or to use it for vendor's own marketing. You will receive a detailed confirmation letter and additional event information via email and be required to sign a release waiver in order to participate. This virtual event will take place on Zoom. Logging on with a smartphone is not recommended for this event. Specific log-in instructions for Zoom will be sent via email four (4) days prior to your event.
Experience Includes
Cooking demonstration and conversation with Chefs Michael Symon and Carla Hall
Hosted live Q&A with Cardmembers
1 signed copy of Chef Carla's book Soul Food, 1 jar of bread and butter pickles and 1 deviled egg platter for Chef Carla's recipe
1 signed copy of Chef Michael's book, Fix It with Food, 1 Silpat silicone mat and 1 jar of red pepper sauce for Chef Michael's appetizer
Tentative Event Schedule

| | |
| --- | --- |
| 6:45 PM – 7:00 PM ET | Guests log on to Zoom |
| 7:00 PM – 7:05 PM ET | Welcome and Introduction |
| 7:05 PM – 7:50 PM ET | Cooking Demo and Conversation with Chef Michael Symon and Chef Carla Hall  |
| 7:50 PM – 8:15 PM ET | Hosted Live Q&A  |
Please note: All times are Eastern. Schedule subject to change. The event begins promptly at 7:00 PM.
Event Location
Virtual Experience Via Zoom

Virtual Experience, Zoom