A Chance to Win a Private Evening with Geoffrey Zakarian in Los Angeles!
Culinary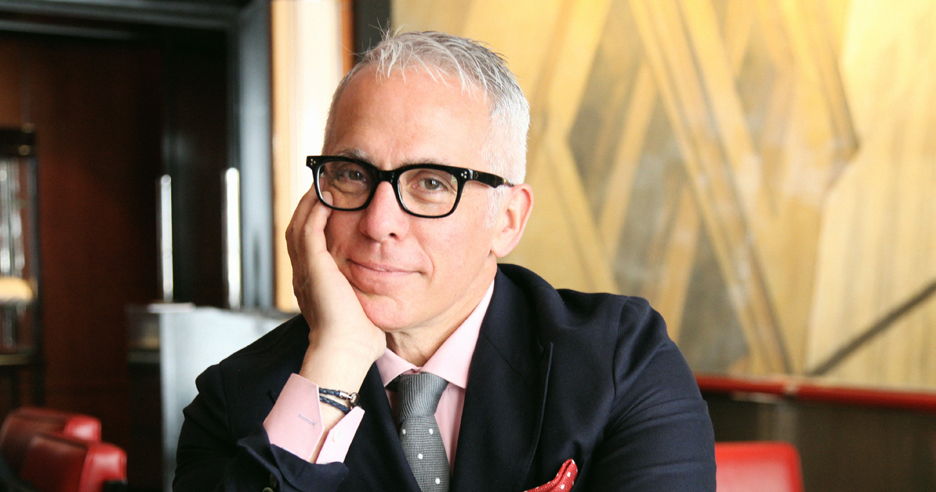 Celebrated Food Network Chef Geoffrey Zakarian invites you and up to three of your guests to join him April 4th for this private Inside Access from Chase event in Los Angeles, CA. Enjoy an evening of one-on-one time with Geoffrey as he hosts a fun interactive mixology and culinary reception followed by a three-course dinner featuring some of his favorite spring inspired recipes.

Two grand prize winners will be chosen – each winner will be able to bring up to three guests with them to experience this special evening. You and your guests will be welcomed for an hors d'oeuvres reception. During this time, Chef Zakarian will offer an interactive mixology lesson. Following hors d'oeuvres, guests will move into the kitchen area to learn how to prepare select items from the dinner menu. From chopping to mixing, Geoffrey Zakarian will help guide guests during this private hands-on experience.

Following the interactive portion of the evening, Geoffrey will sit with and enjoy the specially curated three-course dinner with you and your guests. Dinner will be complimented with a selection of beverages.

This private evening will take place at the Hedley & Bennett headquarters in their new state of the art test kitchen. Known for creative culinary workwear, Hedley & Bennett creates specially crafted premium aprons for home and professional use. As a memento of the evening, each guest will receive a hand-made apron.

Throughout a career spanning 30 years, Chef Geoffrey Zakarian has made his mark as a chef, restaurateur and food authority on TV. Known for his sophisticated taste and signature style, in addition to his status as a longtime favorite judge on Food Network's Chopped and as an Iron Chef, Geoffrey Zakarian is a co-host on Food Network's Emmy-nominated daytime series, The Kitchen and the host of primetime hit, Cooks Vs. Cons. In addition to Town/Country Chef Zakarian has also written My Perfect Pantry. When not cooking, filming or writing, Chef Zakarian serves as Chairman of the City Harvest Food Council, an organization committed to fighting hunger in New York City.
Experience Includes
A private evening with Chef Geoffrey Zakarian for you and up to three guests

Airfare to Los Angeles

2-night hotel accommodations

Hors d'oeuvres reception hosted by Chef Geoffrey Zakarian

Hands-on mixology and culinary experience with Geoffrey Zakarian

Three-course dinner hosted by Geoffrey Zakarian

Photo with Geoffrey Zakarian

Personalized copies of Geoffrey Zakarian's Town/Country and My Perfect Pantry for each guest

Hedley & Bennet handmade apron
Tentative Event Schedule

| | |
| --- | --- |
| 6:00 PM - 7:00 PM | Reception and interactive experience with Chef Geoffrey Zakarian |
| 7:00 PM - 9:30 PM | Seated three-course dinner with Geoffrey Zakarian |
Please Note: Schedule subject to change. Winners must be available to participate in the event on Thursday April 4th, 2019, and if traveling by air, must arrive in Los Angeles by 6PM on Wednesday April 3rd, 2019.
Event Location
Hedley & Bennett
3864 S Santa Fe Ave
Vernon, CA 90058
Chase "Win a Private Evening with Geoffrey Zakarian in LA" Sweepstakes (the "Sweepstakes") Official Rules No Purchase or Obligation Necessary to Enter or Claim a Prize. A purchase will not increase your chances of winning. ELIGIBILITY : Sweepstakes is open to all legal residents of the fifty (50) United States and the District of Columbia who are eighteen (18) years of age or older at the time of entry and are a United MileagePlus Member ("you" or the "Entrant(s)" or "Participant(s)"). Employees of JP Morgan Chase Bank, N.A. ("Sponsor" or "Chase"), United Airlines, Inc., Avignon Enterprises LLC f/s/o Geoffrey Zakarian, and their respective parent companies, related subsidiaries and affiliated companies, prize suppliers, and advertising and promotion agencies including Millennium Communications, Inc. Karlitz & Company, and Marden-Kane, Inc. ("Administrator") and each of their respective agents, representatives, officers, directors, shareholders, and employees, and the immediate families (spouse, and parents, children and siblings, and their respective spouses regardless of where they live) (collectively "Releasees"), and individuals living in the same households, whether related or not, of the above, are not eligible to enter or win a prize. Each Entrant by participating in the Promotion agrees to be bound by the Official Rules and that of the Sponsor's decisions. Void where prohibited or restricted by law. The Promotion is subject to all applicable federal, state, and local laws and regulations. TIMING : The Sweepstakes begins on March 4, 2019 at 12:00:00 PM (noon) Eastern Time ("ET") and ends on March 17, 2019 at 11:59:59 PM ET (the "Sweepstakes Period") which is further divided into two (2) Weekly Periods (each a "Weekly Period") as defined in the chart below. For purposes of this Sweepstakes, a "day" is defined as a 24-hour period, beginning at 12:00:00 AM PT and ending at 11:59:59 PM PT except for the first day of the Sweepstakes where a day is defined as beginning at 12:00:00 PM (noon) ET and ending at 11:59:59 PM ET. The Sponsor's computer, or that of its designee, runs the official clock for the Sweepstakes and will solely determine the time by which an entry is received. Entry Periods, Drawing & Prize Details Chart (the "Chart") All dates are 2019 calendar year. Sweepstakes Period Start Date End Date Drawing Date Winner Notification Date Number of Winners Prizes* Weekly Period 1 March 4 March 10 March 18 March 19 1 Trip to LA to meet Geoffrey Zakarian. Weekly Period 2 March 11 March 17 March 18 March 19 1 Trip to LA to meet Geoffrey Zakarian. *See "PRIZES" section below for more information regarding the prizes. HOW TO ENTER : Go to the Sweepstakes registration page located at: https://gz2019.chaseonlinesweepstakes.com/ (the "Web Site") any time during the Sweepstakes Period. Complete the required information on the entry form, which may include, among other things, full name, mailing address, e-mail address, telephone number, your United Mileage Plus number and related registration information as prompted. Entrant must complete the entry form with all required information and click "ENTER NOW" for the entry to be eligible. Limit: There is a limit of (1) entry per person/email address/United MileagePlus number per day. Entries received in excess of the entry limit stated herein will be disqualified. By participating in the Sweepstakes Entrant agrees to comply with the Sweepstakes Official Rules. Entries may only be submitted by a single Entrant. Entries that do not comply with these Official Rules, as determined in Sponsor and/or Administrator's sole discretion, will be disqualified from the Sweepstakes. Decisions of the Sponsor and/or Administrator are final and binding. Any attempt by any Entrant to obtain more than the stated number of entries by using any other methods will void that Entrant's entries and that Entrant may be disqualified. PRIZES/ODDS : Two (2) Grand Prize Winners (one (1) per Weekly Entry Period): A trip for the winner and up to three (3) guests to Los Angeles, CA to meet Geoffrey Zakarian. Each prize includes: Two night's hotel accommodations (two (2) standard double occupancy rooms). Round trip coach class airfare (from a major getaway airport closest to the winner's home to/from Los Angeles, CA). A private evening with Chef Geoffrey Zakarian for you and up to three (3) guests on Thursday, April 4, 2019 from 6:00pm PT to 10:00pm PT which includes: Reception with beverages and hors d'oeuvres hosted by Chef Geoffrey Zakarian; Hands-on mixology and culinary experience with Geoffrey Zakarian; Three-course dinner with a selection of beverages hosted by Geoffrey Zakarian; Photo with Geoffrey Zakarian; Personalized copies of Geoffrey Zakarian's Town/Country and My Perfect Pantry for each guest; and Hedley & Bennet handmade apron. Approximate Retail Value ("ARV"): $4,400.00 each. Total ARV of all prizes: $8,800.00. Odds of winning depend on the total number of eligible entries received in each Weekly Entry Period. Additional conditions of Grand Prize trips: Winner and guests must complete a Travel Release Form The Grand Prize will be forfeited if: If winner is not available to travel on or attend the event on the dates specified by Sponsor currently planned for April 3 - 5, 2019. The proper travel documents are not obtained by the winner by the date specified by Sponsor. Ground transportation to/from winner's home/departure airport and while in Los Angeles, CA is NOT included in the prize and is the responsibility of the winner. Winner and guests' must possess and are responsible for obtaining and must have valid ID or other required documentation for travel. Guest travelling with winner must be 18 years of age or older at time of travel unless guest is a child or legal ward of the winner. Winner and guests are responsible for obtaining any travel insurance (and all other forms of insurance) that they may wish to obtain at their own expense and hereby acknowledges that the Sponsor has not and will not obtain or provide travel insurance or any other form of insurance. Winner is bound by the terms and conditions of all airlines, hotels and other third party service providers used in connection with the Prize. Sponsor is not responsible if tickets, travel vouchers, certificates or other similar items are lost, stolen, or misplaced by Winner and will not be replaced or if booked transportations are missed for any reason. The Grand Prize does not include any other incidentals not mentioned in these Official Rules such as, but not limited to, ground transportation, special seating assignments, baggage fees, alcoholic beverages, food (except during the event with Geoffrey Zakarian), gratuities and tips, insurance, laundry service, merchandise, parking, room service, service charges, souvenirs and telephone calls. All other expenses not stated herein as part of the prize are the winner's sole responsibility. Actual value of the trip depends on winner's residence or departure city. Specifics of prize package are subject to availability and Sponsor's sole discretion. Complete terms and conditions of trip will be furnished with prize notification. Other restrictions may apply. Airline tickets issued in conjunction with the prize are not eligible for frequent flyer miles, and no code share flights may be used. The prize cannot be used in conjunction with any other promotion or offer. The Winner or the Guest must provide the hotel with a valid credit card for incidentals (including room service, mini-bar and pay-per-view television) and/or damages to the hotel room. If a Grand Prize winner lives within a 150 mile radius of Los Angeles, CA ground transportation may be provided by Sponsor in lieu of air transportation and no compensation or substitution will be provided for difference in prize value. Sponsor and/or its agent has the right to remove or to deny entry to the winner and/or his/her guest(s) who engage(s) in a non-sportsmanlike or disruptive manner, be intoxicated, be a safety risk, or with intent to annoy, abuse, threaten or harass any other person at the event. In the event that Geoffrey Zakarian has to canceled for any reason whatsoever, in whole or in part, including but not limited to cancellations, postponements, an event of force majeure, or for any other reason, then the remaining components of the Prize shall constitute full satisfaction of Sponsor's prize obligation to the prize winner and his/her guest/travel companion(s), and no other or additional compensation will be awarded. Grand Prize winner will not receive cash or any other form of compensation if actual travel costs are less than the estimate made in these Official Rules. Winner and guest(s) must travel together on the same travel itinerary and booked flights. Prize Conditions : Winner is responsible for the payment of all taxes on the prizes. All details of prizes not specified herein shall be determined solely by Sponsor and prize provider. Except as provided herein, no cash, transfers or prize substitution is allowed except at the discretion of Sponsor, who reserves the right to substitute a prize (or prize component) with one of comparable or greater value. If prize cannot be awarded due to circumstances beyond the control of Sponsor and/or prize provider, a substitute prize of equal or greater retail value will be awarded; provided, however, that if prize is awarded but unclaimed or forfeited by recipient, prize may not be re-awarded, in Sponsor's sole discretion. By accepting the prize, Prize Winner acknowledges compliance with these Official Rules. RANDOM DRAWINGS : A random drawing to select Weekly Period prize winners will be conducted on or about each of the drawing dates stated in the Chart above (each, a "Drawing Date") from among all eligible entries received by the end date for that Daily Period. Non-winning entries received in Weekly Period 1 will not be included in the Weekly Period 2 Drawing. For clarity non-winner entries from Weekly Period 1 do not roll over into Weekly Period 2. Drawings will be conducted by Marden-Kane, Inc., (the "Administrator"), who is an independent judging organization. Decisions of the Sponsor/Administrator will be final and binding on all matters relating to this Sweepstakes. WINNER NOTIFICATION: Administrator will notify potential winners by email and/or phone at the email address and/or phone number provided with the entry on the Winner Notification dates listed in the Chart above. Potential Grand winners must respond within twenty-four (24) hour of the initial notification. Potential Grand winners will then be required to execute and return an Affidavit of Eligibility and Liability Release and where legal, a Publicity Release (the "Affidavit"); and an IRS Form W-9 within five (5) days following the date of issuance of notification or the prize may be forfeited and awarded to an alternate potential winner. Potential Grand Prize Winners will be required to furnish his/her social security number that will be used only for the purpose of reporting the Winner's prize earnings to the Internal Revenue Service, as required by law. Failure to timely return any documents requested, return of prize notification as undeliverable, or noncompliance with these Official Rules will result in such potential Winner being disqualified. Sponsor shall have no further obligation to that potential Winner, and an alternate Winner may be determined, time permitting. If a potential Winner (i) cannot be contacted after a reasonable attempt has been made by Administrator (as determined in Sponsor's sole discretion); (ii) refuses the prize; and/or (iii) the prize or prize notification is rejected or returned as undeliverable, such potential winner forfeits all rights to be deemed a winner in the Sweepstakes and receive the prize, then that potential prize winner will be disqualified and an alternate winner may be selected (time permitting) through a random drawing by the Administrator from the remaining entries. Prizes must be accepted as awarded. Except where prohibited by law, the winner's entry and acceptance of the prize constitutes permission for the Sponsor to use said winner's name, photograph, likeness, statements, and biographical information without further compensation. Except where prohibited by law, each potential winner's entry and acceptance of a prize constitutes the potential winner's irrevocable, sub-licensable, absolute right and permission for the Sponsor and its designees to use, publish, post or display the potential winner's name, entry submission, statements, biographical information, voice, city and state address, any quotes attributable to him or her, photographs/likenesses and any other indicia of persona (regardless of whether altered, changed, modified, edited, used alone, or used with other material in Sponsor's sole discretion) for any purpose, including but not limited to advertising and promotional purposes for this and similar promotions, worldwide, and in perpetuity, in any and all forms of media, now known or hereafter devised (including and without limitation, the Internet) without additional authorization, opportunity to review, approval, notification or compensation and each potential winner releases Releasees from any and all liability related thereto. In no event will more Sweepstakes prizes be awarded than those listed in these Official Rules. GENERAL CONDITIONS: By accepting a prize, Winner must consent to the use of his/her name, city/state of residence, photograph, visual and/or audio likeness for advertising or promotional purposes by Sponsor, and its designees, including but not limited to the posting of Winner's name on the Sponsor's website, in a Winners List or other online announcements, without additional compensation, permission or notification except where prohibited by law. U.S. law governs this Sweepstakes. Prizes are awarded "as is" with no warranty or guarantee, either express or implied by the Sponsor. LIMITATION OF LIABILITY AND RELEASE OF CLAIMS: By participating in the Sweepstakes, Entrants agree to release, indemnify and hold harmless Releasees, and each of their respective agents, representatives, officers, directors, shareholders and employees from and against any injuries, losses, damages, claims, actions and any liability of any kind resulting from or arising from participation in the Sweepstakes or acceptance, possession, use, misuse or nonuse of the prize (including any travel or travel-related activity thereto) that may be awarded. This Sweepstakes and these Official Rules shall be interpreted in accordance with the laws of the State of Delaware without regard to its principles of conflicts of law. Jurisdiction and venue shall be solely within the State of Delaware. Releasees are not responsible for technical, computer, mechanical, printing, typographical, human or other errors relating to or in connection with the Sweepstakes, including, without limitation, errors which may occur in connection with the administration of the Sweepstakes, the processing of entries, the announcement of the prizes or in any Sweepstakes related materials; or for stolen, lost, late, misdirected, damaged, incomplete, inaccurate, undelivered, delayed or illegible entries or; for electronic, computer, or telephonic malfunction or error, fail to enter into the processing system, or are processed, reported, or transmitted late or incorrectly or are lost for any reason including computer, telephone, paper transfer, or process any transaction thereon. If in the Sponsor's opinion, for any reason this Sweepstakes is not capable of running as planned, or there is any suspected or actual evidence of electronic or non-electronic tampering with any portion of the Sweepstakes, or if computer viruses, bugs, unauthorized intervention, fraud, or technical difficulties or failures compromise or corrupt or affect the administration, integrity, security, fairness, or proper conduct of the Sweepstakes, the Sponsors reserve the right at their sole discretion to disqualify any individual (and void his/her entry and/or prevent him/her from future participation) who tampers with the entry process and/or who is acting in violation of these Official Rules, to modify or suspend the Sweepstakes, or to terminate the Sweepstakes and at Sponsor's discretion conduct the judging to award the prize using all eligible non suspect transactions and entries received as of the termination date. As a condition of entering the Sweepstakes, Entrants agree that: a.) under no circumstances will Entrants be permitted to obtain awards for, and Entrants hereby waives all rights to claim, indirect, punitive, incidental, consequential, or any other damages, other than for actual out-of-pocket expenses; b.) all causes of action arising out of or connected with this Sweepstakes, or the prizes awarded, shall be resolved individually, without resort to any form of class action; and c.) any and all claims, judgments, and awards shall be limited to actual out-of-pocket costs incurred, if any, but in no event shall Entrant be entitled to receive attorneys' fees or other legal costs, and in no event to exceed two hundred fifty dollars ($250). Sponsor reserves the right to modify prize award procedures at their discretion. Sponsor's failure to enforce any term of these Official Rules shall not constitute a waiver of that or any other provision. PRIVACY: Information collected from Entrants is used only for the purpose of awarding prizes, operating the Sweepstakes consistent with the Official Rules and to notify Winners, and will not be re-used, sold or shared in any manner by Sponsor or any third parties unless Entrant has opted-in to receive additional information and promotional material from Sponsor or a third party. Once the Sweepstakes, including any known or unknown extensions of the Sweepstakes, has ended, all information supplied by Entrants will be removed from the database. WHO WON : To request the list of winners, send an e-mail with subject line Chase United Sweepstakes Winners to winners@mkpromosource.com. Requests must be received no later than April 12, 2019. The list will be sent when the drawings have been conducted and the winners verified. SPONSOR : JP Morgan Chase Bank, N.A. and its respective parent companies, related subsidiaries and affiliated companies, 201 N. Walnut Street, Wilmington, DE 19801. Administrator: Marden-Kane, Inc., 575 Underhill Blvd., Ste. 222, Syosset, NY 11791. Avignon Enterprises LLC f/s/o Geoffrey Zakarian - c/o WME 11 Madison Ave. NY, NY 10010. This Sweepstakes is in no way sponsored, endorsed, administered by or associated with Geoffrey Zakarian or Avignon Enterprises LLC and their names and logos are registered trademarks of each. © 2019 Marden-Kane, Inc. All rights reserved. These Official Rules may not be copied, edited, or used for any other purpose, commercial or otherwise, without the express written consent of Marden-Kane, Inc.