Exclusive Italian White Truffle Six-Course Dinner Paired with Specially Selected Wines from the region of Piedmont in Italy.
Culinary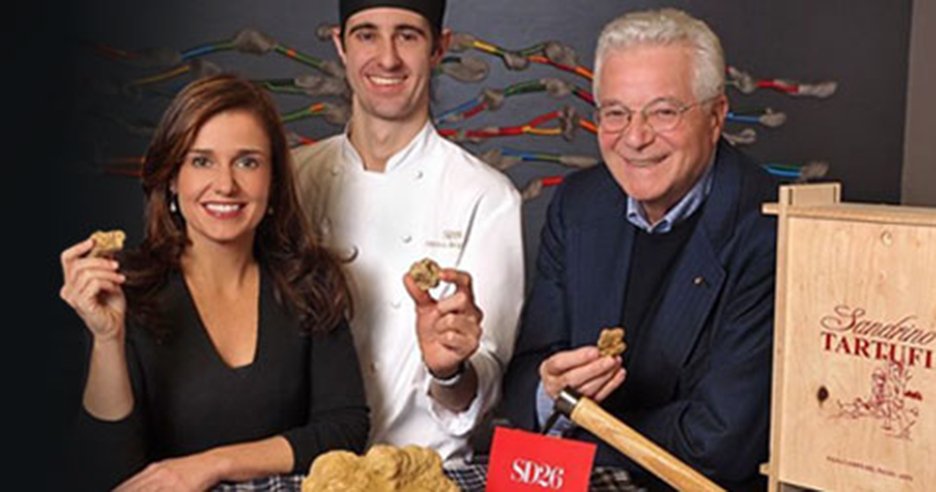 Enjoy a memorable exclusive evening exploring the magnificent flavors of truffles at SD26 in New York City with owner Tony May, venerable restaurateur and culinary ambassador of Italy and a "Trifolau" or Truffle Hunter from the town of Alba.
Designed by Massimo Vignelli, SD26 on Madison Square Park North has three floors with tone setting and rich inviting colors and warm illuminated lighting, surrounded by artwork from renowned artist Sheila Hicks.
Your evening will begin with delectable canapés and a cocktail reception followed by a specially prepared 6-course white truffle dinner. Each course will be accompanied by special wines from the region.
Executive Chef Matteo Bergamini will explain the courses and the wine pairings with Tony May. Adding to the experience, the "Trifolau" will be on hand to explain how truffles are found and why this much sought-after delicacy is so expensive. November begins the precious and short lived white truffle season and to top off this dining experience, guests will shave their own truffles! This dining experience will truly be a special taste exploration of contemporary flavors that are unmistakably Italian.
This event will include:
Cocktail hour (Prosecco, wine, soda) with passed canapés from 6:30-7:30PM
6-course dinner immediately follows
The Trifolau will make his presentation and show a short video
Executive Chef Matteo Bergamini and Tony May will explain each of the courses and the wines
Dinner should conclude at approximately 10:30PM
Event Location
SD26 Restaurant
19 E. 26TH ST (Between 5TH and Madison Aves)
New York, NY 10010