Julius "Dr. J" Erving & Bill Walton Virtual Experience
Sports & Leisure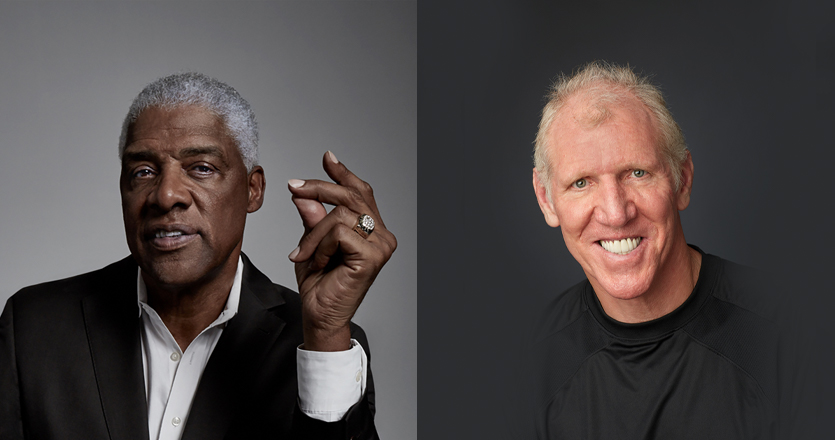 Basketball icons Julius "Dr. J" Erving and Bill Walton will team up for a live virtual evening with Cardmembers. Bill Walton will moderate this once-in-a-lifetime conversation with "Dr. J," as both icons talk about their legendary time on the courts, how the style of play has changed and how this NBA season played out. Bill will offer his perspectives, both as a former player and as a current broadcaster. Cardmembers will also have the opportunity to ask "Dr. J" and Bill their own questions during a Q&A.
Known as one of the greatest NBA players of all time, "Dr. J" helped launch a modern style of play that emphasizes leaping and playing above the rim. His innovative style of play, including his signature "slam" dunk, is now a basic skill set of the modern game. He was the most well-known player when the ABA merged with the NBA after the 1976 season. "Dr. J" won three Championships, four Most Valuable Player Awards and three scoring titles and retired as the third leading scorer in professional basketball history with 30,026 points (NBA and ABA combined). He was also selected as a member of the "50 Greatest NBA Players of All-Time" and in 1993 was inducted into the Basketball Hall of Fame.
Basketball legend Bill Walton is one of sports' most recognizable and beloved figures. His success on the court is well-documented; the nation's top college basketball star at UCLA under legendary coach John Wooden, he then played for two NBA Championship teams – Portland and Boston. Bill is one of only four players in the history of basketball to have won multiple NCAA and multiple NBA Championships. He was inducted into the Basketball Hall of Fame in 1993 and named to the "50 Greatest NBA Players of All-Time" list in 1997. Bill began his broadcasting career in 1990 and was named one of the top 50 sports broadcasters of all time by the American Sportscasters Association in 2009.
Please note: This event is available nationwide with the gift box shipped to Cardmember's provided delivery address. By purchasing this event, you agree that we can share your contact information with the vendor to ensure delivery of your gift box. The vendor has agreed not to share your information with others or to use it for vendor's own marketing. You will receive a detailed confirmation letter and additional event information via email and be required to sign a release waiver in order to participate. This virtual event will take place on Zoom. Logging on with a cellphone is not recommended for this event. Specific log-in instructions for Zoom will be sent via email four (4) days prior to your event.
Experience Includes
Conversation with Julius "Dr. J" Erving and Bill Walton
Hosted Live Q&A with Cardmembers
1 gift box which includes 1 signed photo of Julius Erving, 1 signed photo of Bill Walton, 1 copy of NBA 75: The Definitive History, and 1 box of seasonal Éclat chocolates
Tentative Event Schedule

| | |
| --- | --- |
| 6:45 PM – 7:00 PM ET | Guests log on to Zoom |
| 7:00 PM – 7:05 PM ET | Welcome and Introduction |
| 7:05 PM – 7:45 PM ET | Conversation with Julius "Dr. J" Erving & Bill Walton |
| 7:45 PM – 8:10 PM ET | Hosted Live Q&A  |
Please note: All times are Eastern. Schedule subject to change. The event begins promptly at 7:00 PM.
Event Location
Virtual experience Via Zoom

Virtual experience, Zoom