A Family Baking Experience with Chef Duff Goldman
Culinary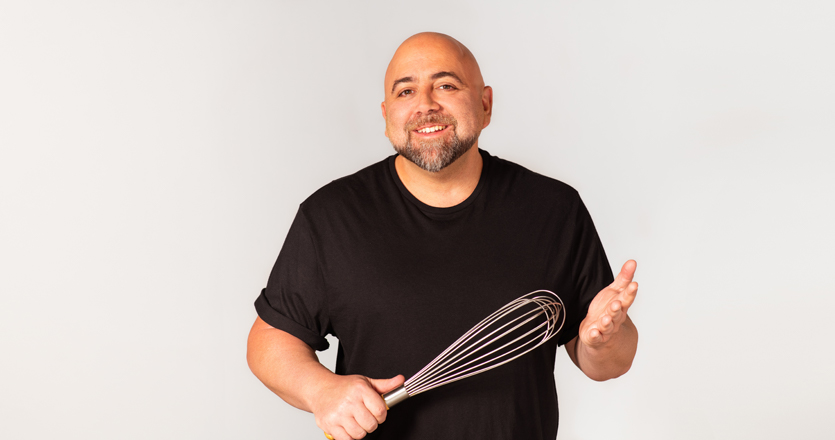 Let the baking fun begin! Join Chef Duff Goldman for a sweet virtual family bake-along live from his home kitchen. During this interactive baking event, Duff will lead Cardmembers through baking three different recipes for chocolate chip cookies, each incorporating a different type of sweetener – granulated sugar, brown sugar and honey. He will explain how using different sweeteners affects the flavor and texture of the cookies. After the baking portion of the event, Duff will engage in a Q&A with Cardmembers.
The Baking kit included with the experience contains key pre-measured dry ingredients for the three types of chocolate chip cookies along with recipe cards. Also included is a signed copy of Duff's new book Super Good Baking for Kids, two Team Duff aprons and two Team Duff bandanas. Super Good Baking for Kids teaches budding young bakers how to make dozens of crazy delicious concoctions—from confetti snickerdoodles to unicorn cupcakes to dessert pizzas. Duff believes baking should be three things: super fun, super delicious, and super creative.
Duff starred on the hit Food Network show Ace of Cakes, set in his bakery, Charm City Cakes. He now has cake studios in Baltimore and Los Angeles and Duff's Cake Mix (a do-it-yourself cake decorating studio) in several locations in the Los Angeles area. You can watch Duff bake and decorate on Food Network's Duff Takes the Cake and mentor bakers on Kids Baking Championship. He is also a regular judge on Holiday Baking Championship and Spring Baking Championship.
Duff Goldman is a chef and artist known for his dazzling, creative approach to food and his awesome stories describing the simple science of baking. Duff and his intrepid team of cake decorators have churned out cakes the world has never seen before: cakes with sound, cakes with smoke, cakes with motorized moving components, life-sized baby elephant cakes - no cake is too crazy to tackle. 
Baking Kit Includes (Dry ingredients for one dozen of each cookie):
Recipe cards for three cookie recipes 
One signed copy of Duff's new book, Super Good Baking for Kids
Two Team Duff aprons
Two Team Duff bandanas 
All-purpose flour
Baking soda
Kosher salt
Semi-sweet chocolate chips
Granulated sugar
Pure vanilla extract
Light brown sugar
Honey
Recommended Shopping List:
Three Sticks of butter
Three Eggs
Equipment Needed:
An oven
Stand mixer or hand mixer
Spatula
Three Medium bowls
Whisk
Three Sheet pans
Parchment paper
Ice cream scooper
Please note: Recommended for families with children eight years or older. This event is available nationwide with Baking kits shipped to Cardmember's provided delivery address. By purchasing this event, you agree that we can share your contact information with the vendor to ensure delivery of your Baking kit. The vendor has agreed not to share your information with others or to use it for vendor's own marketing. You will receive a detailed confirmation letter and additional event information via email. This virtual event will take place on Zoom. Logging on with a cellphone is not recommended for this event. Specific log-in instructions for Zoom will be sent via email four days prior to your event.
Experience Includes
Baking demonstration led by Chef Duff Goldman
One Baking kit with key pre-measured dry ingredients for making one dozen of each cookie 
Recipe cards for three cookie recipes
One Signed copy of Duff's new book, Super Good Baking for Kids
Two Team Duff aprons
Two Team Duff bandanas
Hosted Q&A
Tentative Event Schedule

| | |
| --- | --- |
| 6:15 PM – 6:30 PM ET | Guests log-on to Zoom |
| 6:30 PM – 6:35 PM ET | Welcome and Introduction |
| 6:35 PM – 7:35 PM ET | Bake-along with Chef Duff Goldman |
| 7:35 PM – 8:00 PM ET | Hosted Q&A  |
Please note: All times are Eastern. Schedule subject to change. The event begins promptly at 6:30 PM.
Event Location
Virtual experience help online Via Zoom

Virtual experience, Zoom