Celebrate Fourth of July at the NEWSEUM with a rooftop view of spectacular fireworks and a Presidential Chef
Arts & Entertainment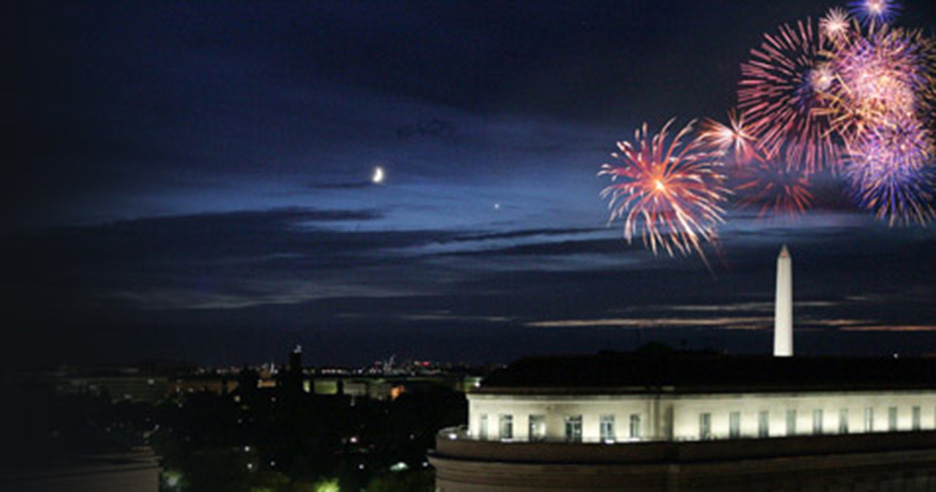 Spend Independence Day in the heart of Washington, D.C, at the Newseum for a casual rooftop dinner. Experience the spectacular fireworks show set against the iconic landscape of historic buildings and monuments, family friendly activities, and a storytelling visit with Patrice Olivon former White House chef to the Clinton and Bush families. Your Fourth of July Newseum experience will begin in the afternoon and continue through the evening at one of the world's most interactive museums, located on Pennsylvania Avenue, where five centuries of news history meets up-to-the-second technology and hands-on exhibits.
You will have the opportunity to spend time visiting the Newseum's galleries, exhibitions, and theaters on your own during the public hours. In addition, a private thirty minute tour will be offered at set times to take you behind-the-scenes to the broadcast studios and control rooms for ABC's Sunday morning news program, "This Week," as well as other museum highlights.
When the museum closes to the public**, you will be able to continue exploring for an hour before moving to the Newseum's Knight Conference Center rooftop for a reception and the evening portion of your experience.
For dinner, guests will be treated to a casual red, white, and blue themed buffet with some of Chef Patrice's favorite Presidential summer recipes and specialty food stations created by Wolfgang Puck Catering. Summer inspired cocktails will be offered at the premium bar as well as indoor-outdoor seating. For twelve years, Chef Patrice served simultaneously as the Executive Chef of the French Embassy and a White House Chef. He'll share stories and recipes during a lively Q&A and photo session.
Following his work at the White House, Chef Patrice was nicknamed the "Patrice-O-Matic" for his speed and culinary prowess when he and former White House Chef Walter Sheib won their Food Network's Iron Chef America battle against Iron Chef Cat Cora. Chef Patrice now serves as Program Director of the Culinary Arts at L'Academie de Cuisine in Gaithersburg, MD.
Later in the evening, all guests will have a great vantage point for the nation's spectacular fireworks display and a virtual front row seat to the Independence Day concert as the televised event comes to life on large screen televisions with enhanced audio.
Experience will include:
All-day access to the Newseum
Private behind-the-scenes guided tour (30 minutes)
After-hours private access from 5 - 6 PM**
"Red, White, & Blue" rooftop reception and dinner
Large Screen Viewing of the July 4th National Television Concert
Rooftop viewing of fireworks
Family-friendly activities, Q&A, and photos with former White House chef Patrice Olivon
Event Time: 2:30 - 9:30 PM
Event Location: Newseum
555 Pennsylvania Ave., N.W.
Washington, DC 20001
Event Schedule**:
2:30 PM: Registration at Newseum (individual self-guided touring)
3:00 – 5:00 PM: Private 30-minute Newseum Guided Behind- the-Scenes Tour
5:00 – 6:00 PM: Continued individual touring after Newseum closes
6:00 – 9:30 PM: Private Cocktail Rooftop Reception followed by a visit with Chef Patrice Olivon, Dinner, Televised Concert, and Fireworks
*Ticket Prices - Tickets are limited to six per person and are priced as follows: $300 for Adults and children above 13 years of age, $200 for Children under 13 years of age, Free for Children under 2 years of age.
**Please note: After hours, all exhibits will be up and running with video and audio with the exception of Be a TV Reporter, Annenberg Theater, Orientation Theaters, Documentary Theater and Sports Theater.
***A detailed itinerary will be provided with event confirmation. All minors must be accompanied by an adult who has purchased the package.
Event Location
Newseum
555 Pennsylvania Ave., N.W. Freedom Forum Entrance on Sixth Street
Washington, D.C. 20001