A Private Evening at Shedd Aquarium with Oceanographic Explorer Fabien Cousteau!
Arts & Entertainment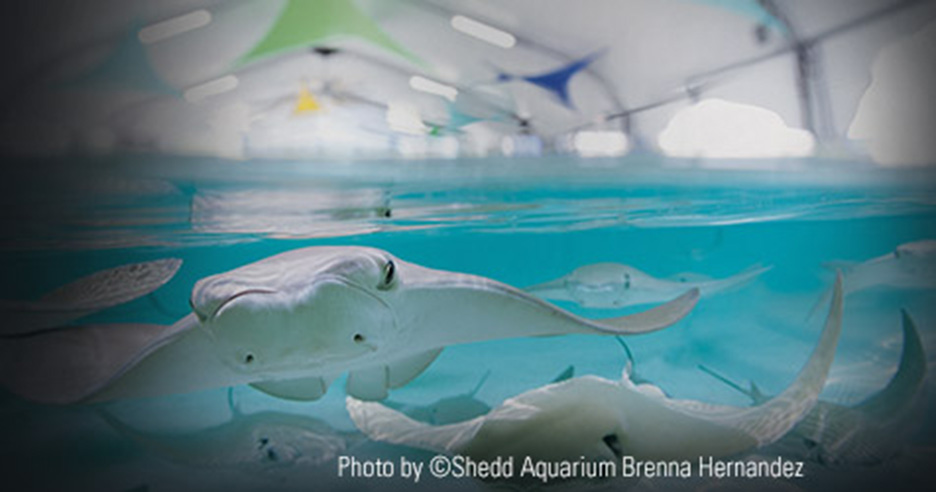 Inside Access cardmembers will begin their evening at Shedd Aquarium in Chicago, home to 32,000 aquatic animals representing more than 1,500 species, with reserved seating at the Aquatic Show and private after-hours visits to Stingray Touch and small group tours of select areas of one of the country's greatest aquariums.
You will have the opportunity to experience Shedd's newest exhibit, Amphibians, just weeks after it opens, meet some of the animals who make their home there and view the exhibit's most awe-inspiring inhabitant, a 4-foot giant Japanese salamander!
Trainers and Aquarists will be on hand to answer questions and share exciting facts in Wild Reef, home to coral, rays and sharks and Polar Play Zone, where you can see penguins up close!
Following the private tours, guests will meet for wine, beer and passed hors d'oeuvres and be seated for a three-course dinner in the Pritzker Caribbean Reef. During dinner Fabien Cousteau will offer remarks and answer questions about his fascinating life and career as an oceanographic explorer. Guests will also have an opportunity to take photos with Fabien.
Fabien Cousteau spent 31 days underwater in Aquarius as a tribute to his grandfather, Jacques Cousteau. He holds the record for longest time underwater for a film crew, surpassing his grandfather's 30 days, and also collected a large amount of scientific data. Fabien has filmed sharks for a Nat Geo Explorer special entitled Attacks of the Mystery Shark and spent three years filming great white sharks in a custom built submarine called Troy for a documentary, Shark: Mind of a Demon, which aired on CBS primetime.
Experience Includes:
Reserved Seating at the 4:00 PM Aquatic Show
After-hours Guided Private Access to Select Exhibits & Experiences including Amphibians, Wild Reef, Stingray Touch and Polar Play Zone*
Beer, Wine & Hors d'oeuvres Reception
Three-course Dinner in the Pritzker Caribbean Reef
Remarks by Fabien Cousteau
Question & Answer Session and Photos with Fabien Cousteau
*Due to the nature of this experience and the importance of animal health and safety, special experiences with animals are subject to change.
Event Date:
Tuesday – June 9, 2015
Event Schedule**:
3:30 PM Registration
4:00 PM Aquatic Show
5:00 PM Guided Private Access to Select Exhibits
6:30 PM Reception and Dinner in the Pritzker Caribbean Reef
9:30 PM Event Concludes
**Please note: Schedule subject to change. This is not an autograph session. A detailed itinerary will be provided with event confirmation. All minors must be accompanied by an adult who has purchased the package.
Event Location:
Shedd Aquarium
1200 S Lake Shore Dr.
Chicago, IL 60605
Event Price:
$175 per person
$125 for children under 12
Children under 2 are free of charge but must be included in your reservation count
WEB00129
Event Location
Shedd Aquarium
1200 S Lake Shore Dr.
Chicago, IL 60605